Prev
Next
Locale: France
#261. Untitled Barbizon Scene.
20 x 29.5, oil on cradled panel. "Gilbert Munger" lower left. An unidentified Barbizon scene. From a private residence in Rhinebeck NY. Sold for $950 + 10% at the 25 May 2008 charity auction run by Fletcher Gallery, Woodstock NY, as lot 121.
An auction of paintings belonging to three collections, presented in association with the American Art Galleries on 7 - 13 April, 1899, at Chickering Hall in New York, contained the following Munger painting:
53 -- Gilbert Munger -- A Sultry Day. On the borders of a broad river the bank is broken by some willows and an oak tree or two. Some cattle graze in the marshes and a boat is seen in the right center. The sky and water are luminous, and the distant shores are seen but vaguely. Over all these is haze of midsummer. Height, 20 inches; length, 30 inches. Owned by Mr. Edward Holbrook (A penciled note records the selling price as $200.)
The description matches this painting very well. (Click on the image to see a larger version in which the boat is more visible.) Image from file provided by Fletcher Gallery.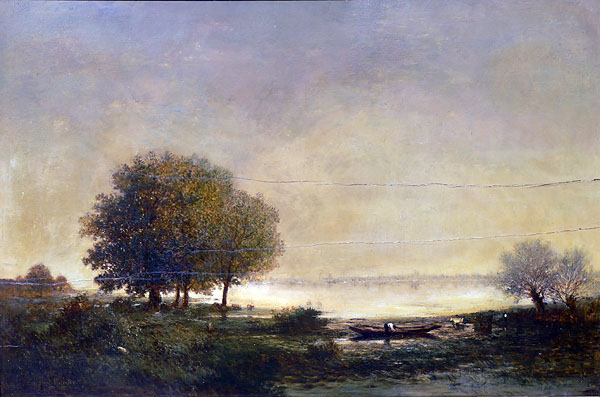 Prev
Next
© Michael D. Schroeder 29 Jun 2008; Updated 17 May 2020.