Prev
Next
Locale: France
#85. Pastoral Scene (Fontainebleau).
20 x 30, oil on linen. "Gilbert Munger 1900" lower left; "Fontainebleau" reverse, handwritten. An "E Mary & Fils, Paris" supplier stamp appears on the stretcher. Seven paintings in this catalog have this stamp. A tag on the back of the frame reads: "Tag No. 1 - 20x30; Forest of Fontainebleau; Gilbert Munger." A gift from Munger relative Miss Melville Silvey in 1960 to the Tweed Museum of Art, Univ. of Minnesota Duluth. This painting appears as the plate facing page 14 in the 1904 Munger
Memoir
.
QFD
Pl.65.
Tweed 2003 Exhibition
n.68. Image from Tweed Museum transparency.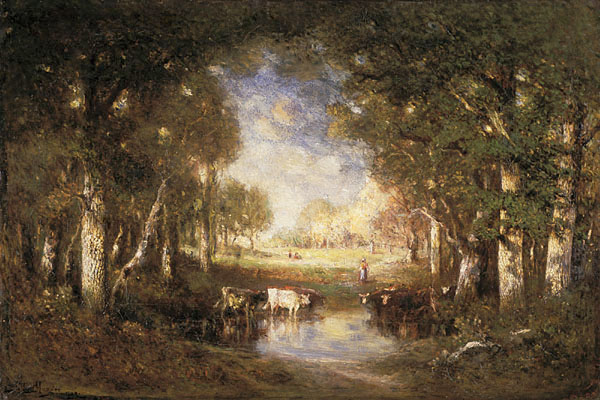 Prev
Next
© Michael D. Schroeder 1 Sep 1999; Updated 27 Apr 2003.