Prev
Next
Locale: Minnesota - Duluth
#86. Duluth 1872.
34 x 60, oil on canvas, restored in 1982. "Gilbert Munger" lower left. Munger painted two versions of this view, one in 1871
(#19)
and this one in 1872. H. J. Mullin unsuccessfully offered it to the City of Duluth in 1929 while it hung at the Kitchi Gami Club, where it still hangs. A plate on the frame states: "Duluth 1872 -- Loaned by Henry Mullin." Oddly enough, Mullin also at one point owned the 1871 version, which Luther Mendenhall successfully gave to the Duluth Public Library in 1917. There is a label on the back from the Tweed Museum of Art, Univ. of Minnesota Duluth 1960 exhibition. Image from author's photo.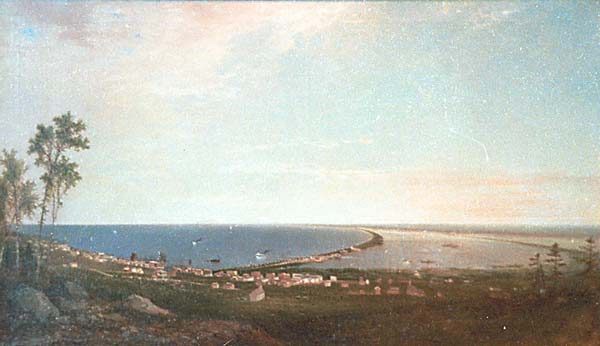 Prev
Next
© Michael D. Schroeder 1 Sep 1999; Updated 20 Mar 2020.