Prev
Next
Locale: Minnesota - Duluth
#334. Duluth 1871 – 72.
24 x 42, Oil on canvas. Apparently unsigned. Paintings
#19
and
#86
are two other instances of this scene. The Minnesota Historical Society has inspected this version and dates it by reference to the civic features depicted. They identify the long point at the left as Minnesota Point and the point at the lower right Rice's Point. Edmund Rice (1819-89) was a Minnesota politician and contributed to the development of Duluth. By 1981 the painting was owned by a Rice descendant, who sold it via Bittner Antiques, Shelburne VT, to a Minnesota collector in 2021. That owner intends to donate it to the Minnesota Historical Society in St. Paul. Image from Bittner Antiques.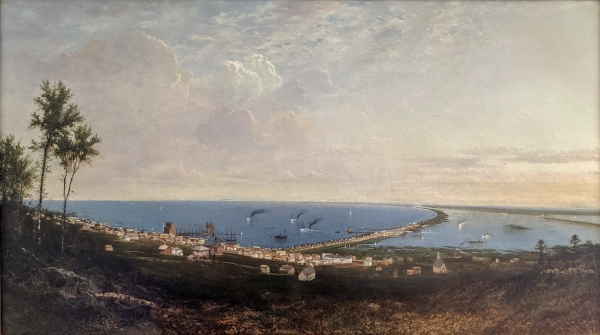 Prev
Next
© Michael D. Schroeder 25 Apr 2023.