Prev
Next
Locale: Minnesota - Duluth
#19. Duluth 1871.
25 x 50, oil on canvas. "Gilbert Munger 1871" lower left. The view is of the harbor and Mississippi Point sand spit of Duluth MN, looking south from downtown. The
Duluth News Tribune
of
3 September 1917
reports this painting being given to the City of Duluth by Luther Mendenhall, who was the first President of the Duluth Library Association. A condition of the gift was that it be displayed at the Duluth Public Library, where it still hangs. Check out the article for
17 June 1911
for the fascinating history of this painting.
#86
is a larger version of this scene. The back shows a label from the 1960 Munger exhibition at the Tweed Museum of Art, Univ. of Minnesota Duluth.
IAP
83850031. See
Painting and Sculpture in Minnesota
by Rena Coen, Univ. of Minnesota, 1976, p.68. See also J. Gray Sweeney's 1983 catalogue
Great Lakes Marine Painting of the Nineteenth Century
, Muskegon Museum of Art, MI, Pl.10 and pp 81, 83.
QFD
Pl.8.
Tweed 2003 Exhibition
n.8. Image from Duluth Public Library photo.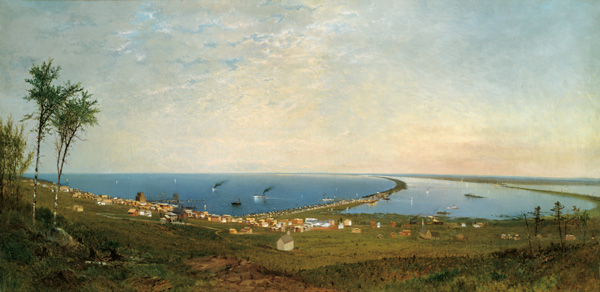 Prev
Next
© Michael D. Schroeder 1 Sep 1999; Updated 20 Mar 2020.