Prev
Next
Locale: France
#262. Untitled Barbizon Landscape.
12 x 16, oil on beveled board. "Gilbert Munger" lower left. A Barbizon landscape reminiscent of others. Owned by William D. Innes, principal in the Stearman Aviation Co. of Wichita KS. In the estate of his son William D. Innes, of Sun Valley ID when he died in 2008. The frame is original as is the dust cover on the back. A label on the dust cover shows "20889 Newcastle on Tyne." Underneath the dust cover is a sticker from "Mawson, Swan & Morgan Limited, Picture Frame Makers, Fine Art Dealers, and Printsellers, Crainger's Street West, Newcastle-On-Tyne" and a partial sticker showing "Fine Picture Framing, Number 2080, Size 12 x 16, Subject Landscape, and Artist Gilbert Munger." Image from the estate appraiser's email.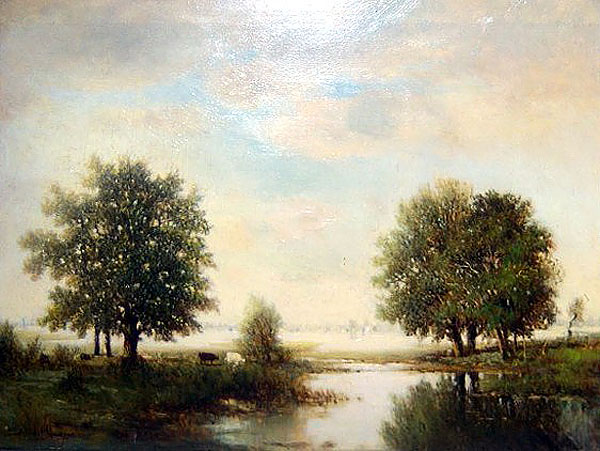 Prev
Next
© Michael D. Schroeder 29 Jun 2008.