Prev
Next
Locale: California - Mountains
#267. Mt. Shasta from a Lake.
19 x 40, oil on canvas relined. Not signed. The artist Myra Dowd Monroe [1872-1966] was Gilbert Munger's niece and she lived in or near Guilford CT. After Munger's death in 1903 she and Munger's brother Roger S. Munger went to New York City to clear out Gilbert Munger's effects which were stored in the Lincoln Warehouse. They found there his palette, brushes, watercolor boxes, sketch books, etc. There were also many unstretched canvases in rolls. She wrote
an early paper on Gilbert Munger
in
Connecticut Magazine
in 1904. Her daughter was Dorris Monroe Weissman, whose son is Chris Weissman.
In 1994 the Munger collector Robert S. Orcutt visited Mrs. Weissman and reported on the conversation to me. He listed six Munger paintings in the Monroe collection, authenticated by family lore and by an appraisal, dated April 1971, from R. H. Tolland, Director Emeritus of the Atlanta Art Assoc. Museums. One of them could well be this painting. (The descriptions in that list are not precise).
Michael and Julie Meyer of Yonkers NY bought this painting from Chris Weissman in 2010. When they purchased the painting it was said to be of California and that seems plausible. The obvious guess as to subject is the west side of Mt. Shasta. But Munger usually painted accurate topography and the mountain here is quite stylized. On the other hand, the provenance is strong. Another (signed) Munger of Mt. Shasta,
#89
, shows a stylized version of a mountain. To settle the matter I asked William C. Miesse of Shasta City CA, an expert on the mountain and its depiction in art. He responded:
I'd have to agree with you that the painting is of Mount Shasta, not very topographically accurate but attractive. I can see Diller canon on Shastina; and I can see Cascade Gulch between Shastina and Shasta. Those two identifiers are good enough for me. Plus the foreground forest on the left is very similar to Mount Shasta scenes by numerous artists like Keith and Hill. The water looks shallow, with water lilies and reeds like many shallow lakes in our area. It could be a stylized Castle Lake ... .
The granite slabs showing through the forest on the hills at the end of the lake are very characteristic of Castle Lake. Image from email sent by Michael and Julie Meyer.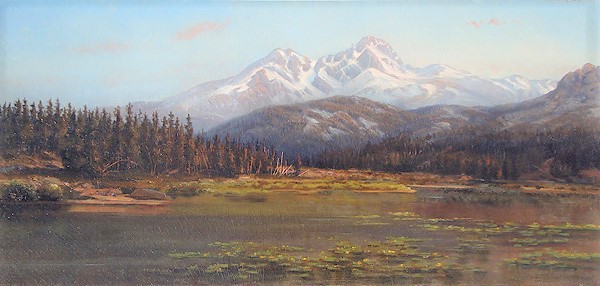 Prev
Next
© Michael D. Schroeder 13 Mar 2010; Updated 23 July 2021.