Prev
Next
Locale: California - Mountains
#9. Mount Shasta.
19 x 34.5, oil on canvas. "Gilbert Munger 1867" lower left; "Gilbert Munger, Mt. Shaster, 1867" reverse. The painting shows the southeast face of the mountain in morning light from a place about 8 miles northeast of McCloud CA. (Thanks to William C. Miesse of Mount Shasta City CA for doing the leg work.)
The title on the back is curiously misspelled. The date on the front and back is before Munger's first known trip to California in 1869 and before his first known visit to Shasta in 1870. Clarance King's book
Mountaineering in the Sierra Nevada
[1872, p. 248] mentions Munger painting from almost this exact spot in mid September 1870. See the
22 November 1870
article describing a new Munger Shasta canvas that matches this painting well, even noting the unusual morning light. The signature, date, and inscription are in Munger's hand. They likely were applied well after the painting was completed and remembered incorrectly. Painting
#2
also has an incorrect and misspelled inscription in the same hand.
Owned by an heir of Roger Munger, Gilbert's brother, until 1979, when it was gifted to the Tweed Museum, Univ of Minnesota Duluth. In a private collection since 2001.
IAP
25680116.
QFD
Pl.26.
Tweed 2003 Exhibition
n.12. See
American Painting at the Tweed Museum of Art
by
Sweeney
, 1982, p.51. In the Tweed Museum 10 - 26 April 1960 Munger exhibition. In the exhibition
The Art of Mt. Shasta
at the Turtle Bay Museum, Redding CA, 10 January - 26 May 2010. Image from author's photo.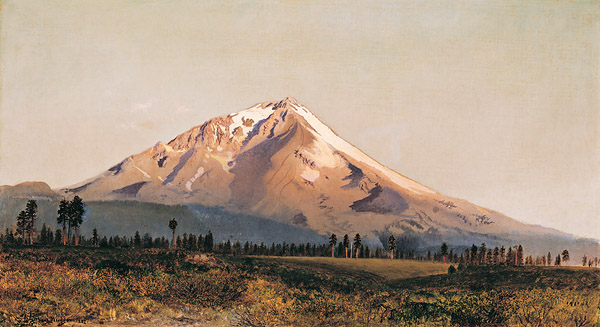 Prev
Next
© Michael D. Schroeder 1 Sep 1999; Updated 1 Feb 2020.