Prev
Next
Locale: California - Ocean
#7. Golden Gate.
18 x 33.5, oil on canvas, relined. "Gilbert Munger 1871" lower right. Title comes from an old label on the back. The view is to the north across the entrance of San Francisco Bay from Point Lobos on the south side. See
this map
for location details and
this park service page
for a current photo plus the history of the foreground cove. This scene is repeated in paintings
#246
and
#280
. The date suggests that it was painted in Munger's New York City studio. Consigned by William Young, owner of Post Road Antiques, Larchmont NY, and author of the book
American Painters and Sculptors
, to the Richard Bourne Hyannis MA auction of 7 August 1973, where it sold for $1,450 + premium to a private collection.
IAP
98780014.
QFD
Pl.23.
Tweed 2003 Exhibition
n.22. See
The Capital Image: Painters in Washington, D.C., 1800-1915
by Cosentino & Glassie, Smithsonian Press, 1983, p.115. Image from owner's photo.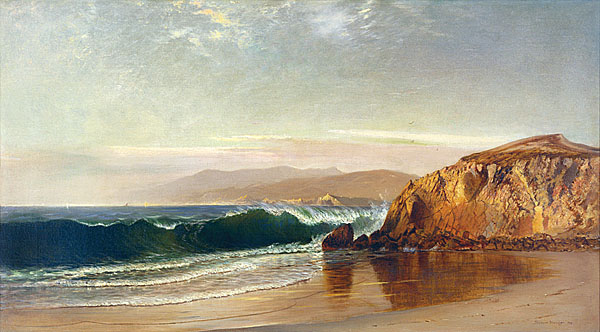 Prev
Next
© Michael D. Schroeder 1 Sep 1999; Updated 19 Mar 2020.