Prev
Next
Locale: USA - Unknown Locales
#91. Mountain Lake Scene.
17 x 25.5, oil on canvas, relined in 1987. "Gilbert Munger" lower right. This painting has the style hallmarks of Munger's western US pictures. Several visual clues point to a mountain scene in California, probably the Sierras. The boulders look like they have been shaped by ancient glaciation; the distant mountains show a timberline; the vegetation seems right. Sold at Litchfield Auction, Litchfield CT, sale of 19 Mar 1987, est $2,300 - 2,500, to Robert Orcutt. Gift of the Orcutt family in memory of Robert S. Orcutt to the Tweed Museum of Art, Univ. of Minnesota Duluth, in 1996.
QFD
Pl.4.
Tweed 2003 Exhibition
n.3. Image from author's transparency.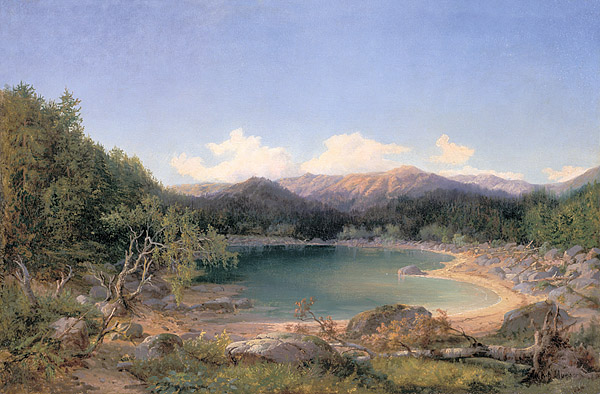 Prev
Next
© Michael D. Schroeder 1 Sep 1999; Updated 4 Jul 2020.