Prev
Next
Locale: California - Yosemite - Valley Views
#94. View from Inspiration Point, Yosemite.
14.5 x 20, oil on canvas on cardboard. Not signed; "In the Rockies, early Gilbert Munger" reverse. A sticker on the back says: "Mr. Monroe." The style of this painting is quite different than other known works. But a report written by Robert S. Orcutt concerning his 1994 visit with Doris Monroe Weisman provides provenance that authenticates the work. Mrs. Weisman is the daughter of Myra Dowd Monroe [1872-1966], Munger's niece. Mrs. Weisman had appraisal documentation dated 1971 showing this painting in the Monroe family collection where it was accepted as by Gilbert Munger. Myra Dowd Monroe most likely obtained the painting in 1904 when, with Roger Munger, she cleared Gilbert Munger's storage locker at the Lincoln warehouse in New York City. Purchased by Robert Orcutt from a Vermont auction in 1987. Gift of the Orcutt family in memory of Robert S. Orcutt to the Tweed Museum of Art, Univ. of Minnesota Duluth, in 1996.
Tweed 2003 Exhibition
n.15. Image from author's transparency.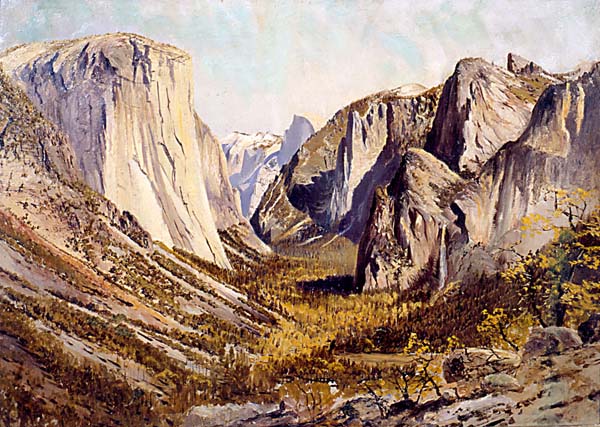 Prev
Next
© Michael D. Schroeder 1 Sep 1999; Updated 12 Jul 2003.