Prev
Next
Locale: Utah - Wasatch Mountains
#173. Indian Camp at the Base of the Wasatch Range.
24.5 x 42, oil on canvas. "Gilbert Munger 1870" lower left. A gift in 1970 from Dr. and Mrs. Donald McIntyre to the Museum of Native American Cultures, Spokane WA, then transferred to the Northwest Museum of Art and Culture in Spokane. Was on display in the US Federal District Court House in Spokane from 1989 until 2002. In
Artist and Place: American Landscape Painting 1860 - 1914
, a 1978 exhibition of the Museum of Art, Washington State University, Pullman, where it is titled
Fort Connah, Mission Valley, Montana
. Based on the close similarity with other paintings identified as the Wasatch Mountains for example
#31
,
#32
and
#218
, this work is assigned the Utah locale. As far as is known Munger was never in Montana. The 1870 date indicates that this work could have been done on site, or in a San Francisco studio. (See the discussion of the Wasatch paintings
here
for more details.)
QFD
Pl.11.
Tweed 2003 Exhibition
n.44. Image from museum's transparency.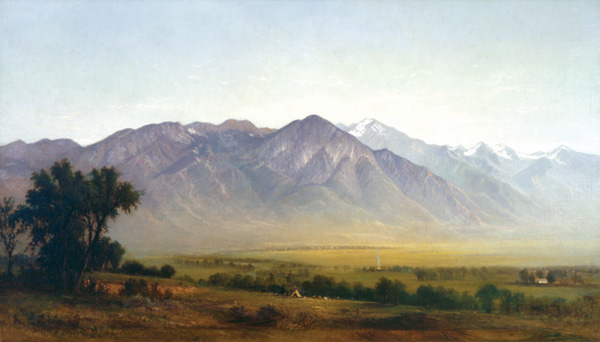 Prev
Next
© Michael D. Schroeder 1 Sep 1999; Updated 17 Jan 2003.