Prev
Next
Locale: Utah - Wasatch Mountains
#218. Scene in the Wahsatch Mountains.
11 x 22, oil on canvas. "Gilbert Munger 1871" lower left. This is an early version of the view of the Wasatch Mountains from southeast of Salt Lake City. A placque on the frame gives the title and artist. Munger spent 1871 back east, so this painting is a studio production, or at least finished in the studio. Paintings
#31
,
#32
, and
#173
offer similar views. (See the discussion of the Wasatch paintings
here
for more details.) The painting was owned by Lyman Mills of Connecticut, a Munger collector. Mills was the Lieutenant Governor of Connecticut from 1899 to 1901. A
scrapbook
kept by Munger's niece Myra Dowd Monroe [1872-1966], given to the Madison CT Historical Society, contains a black and white photo of the painting with the hand written notation: "(Lyman A, Mills Collection.)" The painting was given by Mills as a wedding present to his friend Oliver Lyman, who lived for many years in San Francisco. It passed down in the Lyman family until 2004 when it was sold to a Utah collector via North Point Gallery of San Francisco. Image from a transparency provided by the 2003 owner.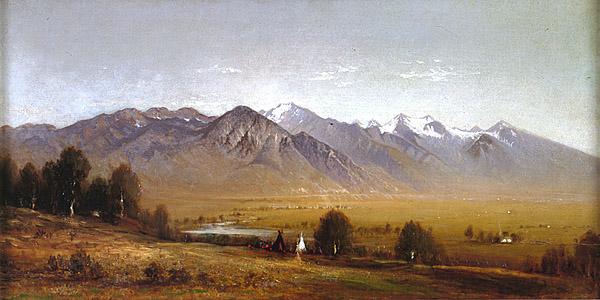 Prev
Next
© Michael D. Schroeder 20 Nov 2003.