Prev
Next
Locale: France
#232. Landscape with Trees and Stream.
42 x 55, oil on canvas on board. "Gilbert Munger" lower left. This painting depicts the same group of trees as items
#88
,
#99
,
#165
,
#172
, and
#256
. One of these has an 1890 date, implying a Barbizon locale, which it looks to be. A
scrapbook
kept by Munger's niece Myra Dowd Monroe [1872-1966] that was given to the Madison (CT) Historical Society contains a black and white photo of this painting with the hand written notations:
Unfinished Munger Masterpiece (Lyman A. Mills Collection)
Mr. Mills was the Lieutenant Governor of Connecticut from 1899 to 1901. He had at least 15 Mungers. From a Munger relative, likely Mrs. Monroe's daughter, about 1970 to the Connecticut dealer David McCoy, who sold it to a Connecticut collector about 1972. Offered at Nadeau's Auction, Windsor CT, 1 January 2017
Annual New Year's Day
sale as lot 617, est. $2,000 - 4,000, but it did not sell. Image from author's photo.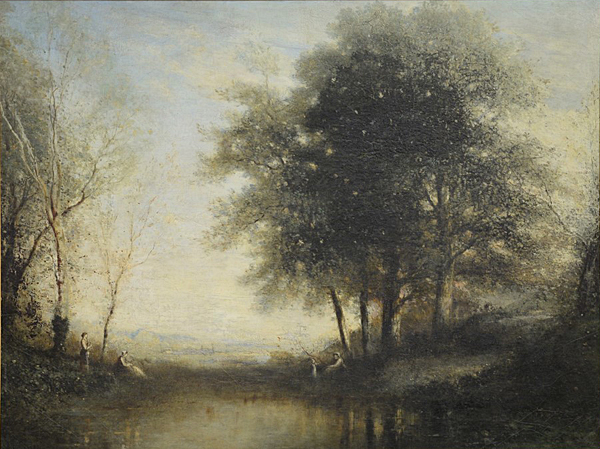 Prev
Next
© Michael D. Schroeder 29 Sep 2014; Updated 4 Apr 2022.