Prev
Next
Locale: USA - Unknown Locales
#253. Mountain Lake (watercolor).
6 x 13.5, watercolor on paper. "Gilbert Munger 1870" lower left. From a St. Paul MN estate, this painting was sold for $850 + 20% at the Luther Auctions, St. Paul MN, sale of 3 September 2007, lot 1341 (also advertised as EBay Live Auction item 250157842889). The lot was presented in a new frame. It sold again for $2,000 plus 22% buyers premium at Bonhams & Butterfields, Los Angeles, sale of 9 August 2011 as lot 6. We know a lot about Munger's whereabouts in 1870 -- various places in California from a San Francisco base until October, Oregon and Washington until late November, then to New York City via train through Salt Lake City. The scene here doesn't seem to match any of those places. The combination of deciduous trees and high mountains is unusual. Compared to other examples, the G's in this signature are unique. See
#11
for the other known watercolor signed "Gilbert Munger." Image from a Luther Auctions email.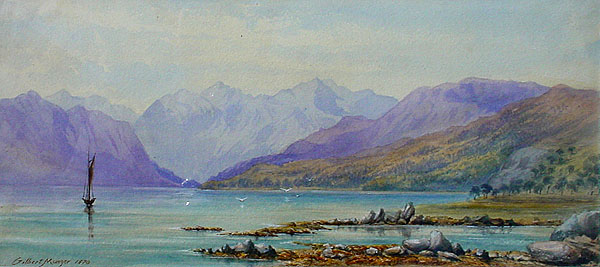 Prev
Next
© Michael D. Schroeder 4 Sep 2007.