Prev
Next
Locale: France
#238. Cattle in Pasture.
10 x 15, oil on canvas. "Gilbert Munger" lower left. This picture is nearly identical to
#249
, which means that the scene is near Vernon France, the railstop nearest Giverny. See also
#322
. In a private collection in Saratoga Springs NY, from which it was sold for $2,500 + 10% at the Woodstock Artists Association
Apres Ball Fine Arts Auction
held in Woodstock NY 5 September 2004, lot 137. Subsequently sold by Art & Antique Gallery, Worcester MA, at the Miami Antiques Show, 20-24 January 2005, to a Sharpsburg MD collector for $3,100 + 10%. Image from digital photo provided by the James Cox Gallery in Woodstock, NY.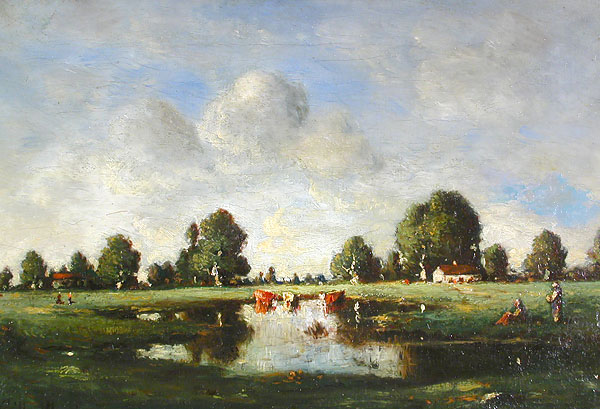 Prev
Next
© Michael D. Schroeder 13 Dec 2004; Updated 30 Nov 2019.